It wasn't until I landed in Austin, Texas that I realized I just traveled to a city that I have never been to, as well as a city that I didn't know a soul. I was excited, I was nervous, but most importantly, I was ready to get out of my comfort zone, and challenge myself to do everything…ALONE.
I don't know what it is about Austin, but for about 3 years now, there has been something pulling me there. Something telling me that I needed to visit, and something telling me that this is where I belong. I have always been told such good things about this city, and what it's all about, with comments such as: "It's a city for young professionals, creative minds, and free spirits." Sign me up. So I booked the flight, made the arrangements, and I counted down the days until I would finally get to experience the city whose motto is: "Keep Austin Weird."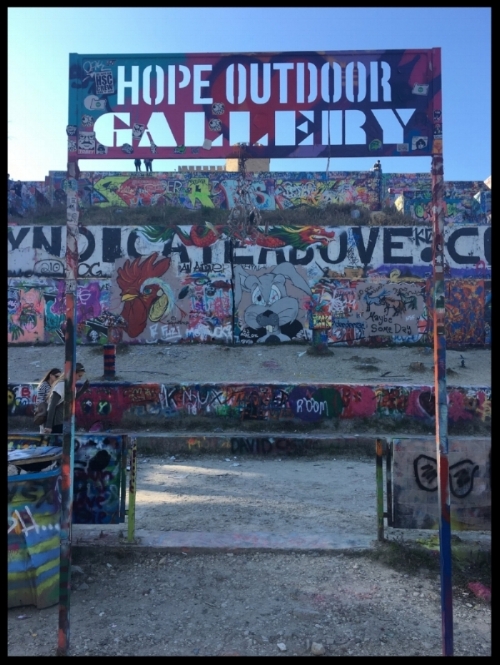 When I arrived in Austin, I had no idea what I planned to do, nor did I know what to expect once I would get there. I was simply, just going with the flow, and taking it day by day. I had been told that there were a handful of things that I needed to see and experience once I got there (including climbing to the top of Mt. Bonnell, pictured above). For me, it was just about being in a new place, and forcing myself to do things on my own.
I spent most of my time in coffee shops, while working on my website, researching interesting topics, and striking up the occasional conversation with what you would call, an "Austinite." I must make a side note here and say, in total I went to 12 different coffee shops in Austin. I am pretty sure you could go to a new one every day for at least a year. This, to me, was awesome, considering I am a coffee shop connoisseur, and I am always looking for the next best "Cup of Jo." Ironic that one of the locations I visited was called, Jo's Coffee, and they are known for their graffiti pictured below that says, "I love you so much." I just had to visit that one for the picture alone.
I spent a lot of time traveling around the city looking for graffiti to photograph. Murals can be seen all over, and it was one of my favorite things about Austin. If you have ever been there before, you know that I am not lying when I say that this is one of the most decorated cities out there. If you ever find yourself in Austin, I hope you visit the "Hope Outdoor Gallery." It brings artists, and creative minds together to form something bigger than themselves. It was eventually taken over by the HOPE campaign to orchestrate, and organize, a safer area for artists to make the most out of the space they are provided on these walls. Definitely a must-see for those of you planning to visit this amazing city.
Before this trip, I had never challenged myself to eat alone. Something so simple, arises such a fear within me, but why? I don't think I am alone when I say that it is a weird feeling to go somewhere and eat by yourself. I felt like I was doing something wrong, but by the end of the trip, I asked myself, "Why have I have been so afraid to do this?" I think what it boils down to is no one wants to appear a certain way to those around us. Being a "loner" should not be viewed as a bad thing, nor should it be as scary as we think it is. If you go out to a restaurant, and you see someone eating by themselves, do you question all the reasons why they are alone, or do you continue living your life because it doesn't matter? Most likely the latter, because here is the truth: when you do things on your own, you are not hurting anyone by doing this. I applaud those that do this on an everyday basis. I think it takes a strong person to have no regard for what others may think about them. Someone eating by themselves shouldn't cause you to think about anything other than the fact that they are brave enough to sit there alone. As weird as it may sound, I think this is best lesson I learned while traveling alone. It was a liberating experience, and I am proud of myself for getting out of my comfort zone.
With that said, after asking around the locals where I should eat, I tried a lot of the Austin favorites, including (my personal favorite) Torchy's Tacos, a hole-in-wall BBQ joint, and a few of the popular food trucks you can find scattered all throughout the city. With my only companion being a book to read, I found out that I really enjoy taking myself out on dates, and although vulnerable and alone, I enjoy my own company. I think we all need a little more of that.
If there is anything that you take away from this blog post, I hope that it challenges you to spend time alone. Go out and do something that you normally wouldn't do. Face your fears, go to a restaurant, and ask for a table for one. Who cares if others look in your direction? If someone is so worried about you eating alone, well that is more of an insecurity on their part than it is yours.
To wrap this thing up, I must end it with that Austin, Texas is amazing, and I can't wait to go back (permanently). The motto, "Keep Austin Weird", is definitely something that this city lives up to, and it is a great way to portray what this city is all about. If you like good food, good people, and good vibes, Austin is where you belong.